Game Session: 3/11/2012
Ramsgate, Festival
Lightly Snowing
The tournament had ended, and the stableboys and labormen moved to the grounds to clean up. Nearby, they saw that there had been large colorful tents erected, beneath it were many bards, jugglers and acrobats. Tables were laid out with food and wagons overloaded with casks of ale, the wheels looking as though they are about to break. Many of the commoners were already there clapping and dancing to the music, laughing and enjoying the ales and fare.
A gypsy wagon laden with cloth and lanterns was close by, outside of it was a tall man spouting large columns of fire into the air drawing applause from the crowd. Elora made herself closer and then asked the man if he could teach her this skill. He spoke in an unusual accent and responded, "You wish to learn the ways to breath the fire? No, I think not." Elora was persistent, but the man continued to refuse. He asked what she could offer him as he looked her over lustily, removing her clothes with his dark eyes. Elora turned away and walked towards a small gypsy tent showing tarot card readings and palmistry.
Inside she met an aged woman with a cloth folded over her head, holding her fragile white hair together. The old gypsy introduced herself as Otha. Elora introduced herself politely as well, and asked her about the fire-breather. Otha informed her that was her son, Artha. From within an old box, Otha brought out an old deck of large cards with strange symbols and pictures on them – Elora recognized these as tarot cards, similar to her own. Otha began laying out the cards and questioned, "You have not seen your mother in a long time, no?" Elora confirmed this. Otha continued, "You search for her now?" Elora again agreed. Otha than asked Elora for a silver coin to continue. She paid and Otha went on with her reading, "I see a forest, an icy forest. Your mother is there." Elora asked what else, Otha offered to read her palm for another silver coin. Elora gave her the coin and the woman took her hand in hers, she did not reveal anything pertinent. Elora thanked her, and left the tent.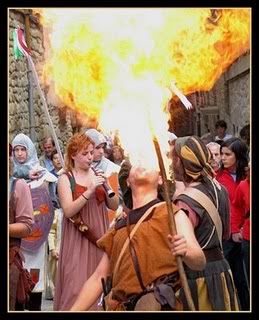 Beldet began looking for a woman, specifically for a woman who appeared to have a good amount of money and likely to have a luxurious and comfortable bed. After some diligent searching and scrutinizing, Beldet found a lady and sweet talked her – she was impressed with his skill she witnessed on the tournament grounds and left the festival with him.
While wandering the festival, enjoying the ales and food, Moresight noticed that the commoners seemed to avoid him. No one ignored him, nor were rude – but whenever he tried to engage in a conversation the replies were short and quick. It was not the reaction he expected with being declared the champion and knighted before the cheering crowd.
Kyrs, Elora and Moresight continued to get their fill of all the ale before deciding to retire for the evening and headed back to the Shark and Anchor. They were unable to find Beldet, and hoped that he had returned to the inn and they would find him there.