Game Session: 12/17/2011
Pictures from Special Holiday Session
After the unusual attack by angry snowmen, pesky gingerbread men and rattling nutcracker dolls the group marched to the tailor's shop. After buying some clean, warm clothes and changing there at the shop, the party continued on.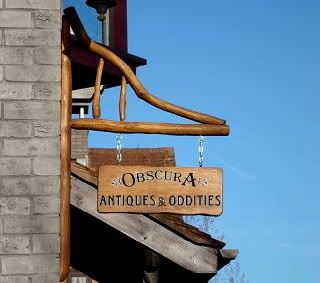 They found the shop Kyrs learned about weeks earlier known as Obscura where Keldon had instructed them to go. The shop was small and cramped and full of strange objects. Obscura Antiques and Oddities was a shop that specialized in selling, buying and trading of bizarre and unusual objects as well as very old furniture and artifacts from the ancient Greek, Roman, English and Irish lore. It was jam packed with curios, unusual taxidermy, exotic furs and many many other strange objects. In the center of the store stood an ominous guillotine.
They were soon greeted by the shop's owner, Michael Beauson who told them the story behind the fascinating execution device. They ended up selling several of their own strange objects, including the rust monster they slew in the Cave of Rebirth. Elora purchased an unusual necklace, believing it to have something to do with the Orcish god, Gruumsh. She also bought a book that appeared to be on the subject of magic and spells.